White Cashmere - Lampe Maison Berger Fragrance - 1 Litre
Maison Berger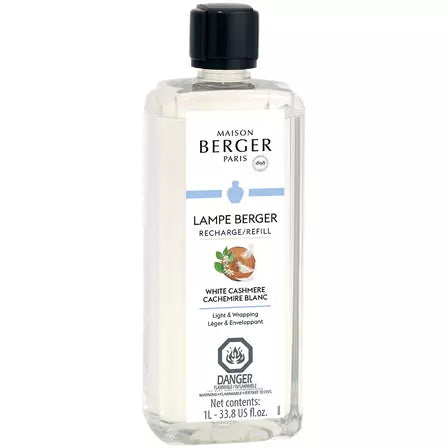 A light, pure fragrance captures the endless possibilities of space.
Do you search the night sky for shooting stars? Inspired by the purity and infinity of space, the White Cashmere Home Fragrance is as light as air. Sensual aromas of Cashmeran wood meld with fresh aquatic notes, supported by bergamot that sparkles like star dust. The head notes blend perfectly with the floral heart of this composition, underscoring the silky aroma of orange blossom, the refined voluptuousness of jasmine, and the subtle charm of ylang ylang. Soft white musks and the majestic woody assertiveness of sandalwood and patchouli crown the fragrance. This fragrance is for those who whisper wishes into the unknown, for those who dream of horizons beyond our own.

Use with any Lampe Berger to purify and delicately perfume your home. The Lampe Berger has a unique and patented diffusion system that helps eradicate undesirable odors and bacteria while also diffusing your favorite fragrance. Purify your air the French way.
Because you deserve the best, we strongly recommend that you use your Lampe Berger exclusively with Maison Berger Paris official fragrances.
Why? Only the use of Maison Berger Paris fragrances with the Maison Berger Paris catalytic process can guarantee quality and safe use of the Lampe Berger. Using fragrances other than those of Maison Berger can seriously damage your burner. 
FRAGRANCE
White Cashmere
Create an ambiance as pure and infinite as the porous white-grey of the moon suspended in the stillness of space. This multifaceted composition is cozy and soothing, opening with soft woody notes, sprinkled with bergamot that sparkles like stardust, that evokes the peaceful slowness of the planets' orbits. The floral heart is sweet and subtle. Aquatic notes impart a light freshness to the composition while delicate, soothing white musks add a veil of elegance.
TOP NOTES
Bergamot, Aquatic Notes, Cashmeran Wood
HEART NOTES
Jasmine, Orange Blossom, Ylang Ylang
BASE NOTES
Patchouli, Sandalwood, White Musks
Regulatory Information
Isopropanol. Highly flammable liquid and vapor. May cause serious eye irritation. May cause drowsiness or dizziness. Dangerous. Follow the instructions for use.
Duration
40h of diffusion - 160h of fragrance