Velvet of Orient Lampe Fragrance by Maison Berger 500 Ml
Maison Berger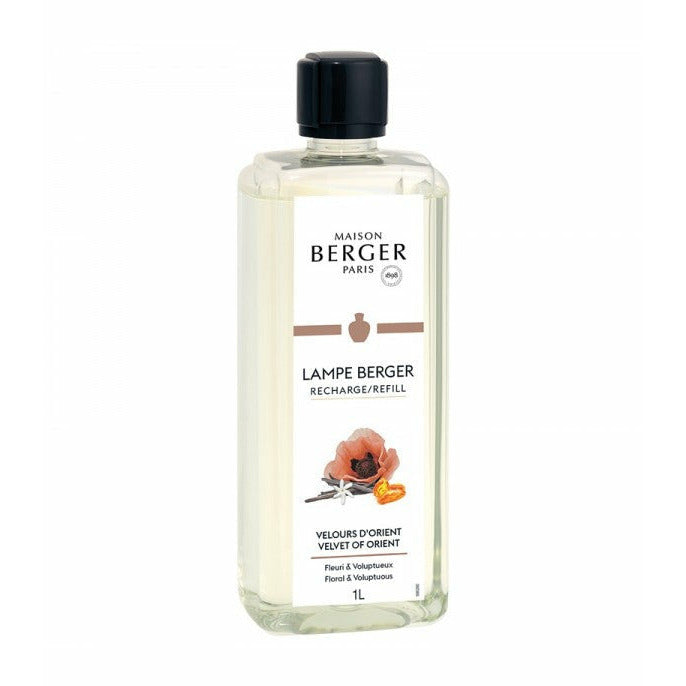 Velvet of Orient Lampe Fragrance by Maison Berger 500 Ml.
Break away to the meadows of the beautiful Orient.
You won't be able to get enough of the vibrant, intoxicating Velvet of Orient fragrance.  The energy of the coffee flower invigorates a blend of poppy and orange blossom, sprinkled with a few peppery facets, before giving way to the mystery of subtly ambered vanilla.  A fragrance you won't want to turn down.

Velours d'Orient by Maison Berger is a floral and voluptuous perfume. The floral aromas of opium join with aromas of coffee and citrus fruits, as well as the spice of pink pepper. These aromas combined with delicacy contrast with the refined heart of the orange blossom. Then the olfactory composition ends with a touch of warm amber and woody vanilla.
Because you deserve the best, we strongly recommend that you use your Lampe Berger exclusively with Maison Berger Paris official fragrances.
FRAGRANCE
Velvet of Orient
TOP NOTES
Coffee Flower, Opium Flower, Citrus

HEART NOTES
Orange Blossom, Pink Pepper

BASE NOTES
Vanilla, Amber, Blonde Cedar

Volume
Regulatory Information
Isopropanol. Highly flammable liquid and vapor. May cause serious eye irritation. May cause drowsiness or dizziness. Dangerous. Follow the instructions for use.
Duration
20h of diffusion - 80h of fragrance