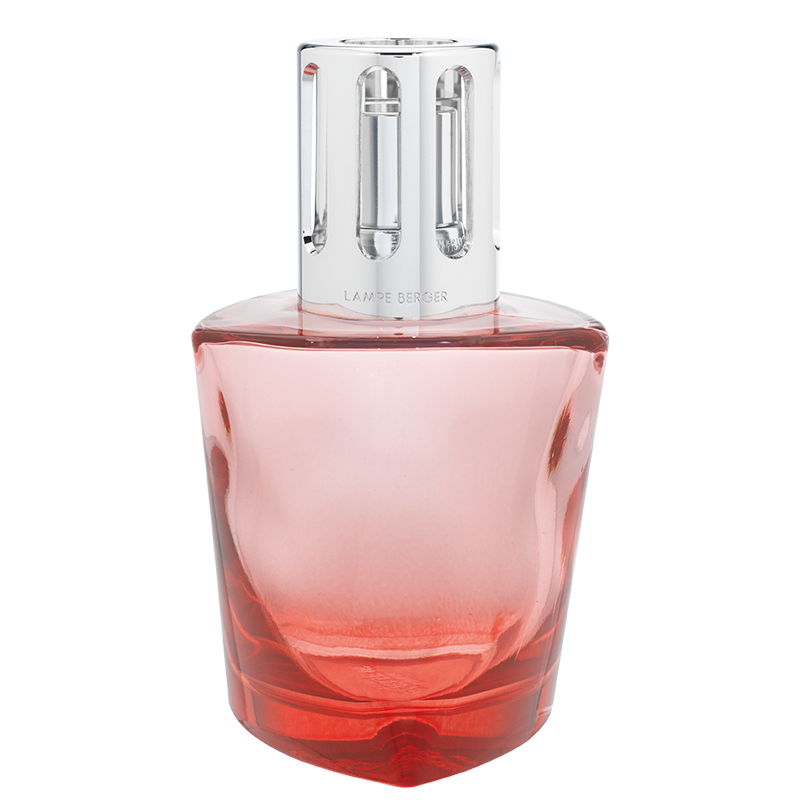 TERRA Red Lampe Gift Set By Maison Berger.
For a bright and striking decorative touch, opt for this sophisticated Lampe Berger with its bold colour and elaborate fragrance!
With its ultra-dynamic and stimulating colour, The Red Terra Lampe Berger Gift Pack adds vitality to the rooms in your home. Warm and passionate, it bestows a strong character on your decoration and, despite its timelessness, is sometimes difficult to marry. The colour red surprises and seduces with its cheerfulness and warmth. Cleverly balanced and associated with this flagship object, the bold colour of the glass emphasises the upside-down triangle shape of the lamp's body, further highlighting its geometric difference. The metallic intensity of the silver mount accentuates its modernity. Discover the floral sensuality of the Black Angelica fragrance with this Red Terra Lampe Berger Gift Pack. Black angelica flower is combined with the delicious notes of vanilla, causing a fascinating blend, enhanced by sparkling bergamot and a woody sandalwood accord. You'll soon be under its spell!
Lamp sold in a gift set with accessories: wick-burner, round silver diffuser cap, stopper, funnel + 250 ml Black Angelica home fragrance.  
HOME FRAGRANCE IS DYE FREE
Because you deserve the best, we strongly advise you to use your Lampe Berger only with Maison Berger Paris fragrances.
Dimensions (HxWxL)
11.1 x 10.1 x 10.1 cm (4.4 x 4 x 4 in)
Regulatory Information
Isopropanol. Highly flammable liquid and vapor. May cause serious eye irritation. May cause drowsiness or dizziness. Dangerous. Follow the instructions for use.
FRAGRANCE
Black Angelica
A sensual and contrasting fragrance, an enchanting oriental flower, an intoxicating flower full of erotic opulence. Rare, noble and refined, this interpretation gives the Angélique its nobility. It combines all the facets of this flower and especially its crisp facet before flourishing in the smooth and enveloping sweetness
HEAD NOTES
Bergamot

HEART NOTES
Black Angelica, Orris, Tuberose

BASE NOTES
Vanilla, Sandalwood, Amber wood