SPIRALE Frosted Lampe By Maison Berger w/Summer Night
Maison Berger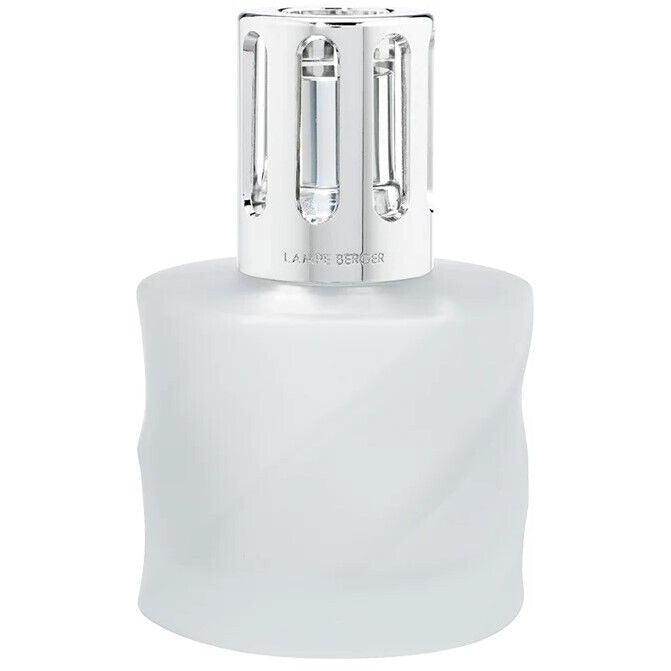 SPIRALE Frosted Lampe By Maison Berger w/Summer Night
Bask in the relaxation of a day at the beach with a marine fragrance and cloud-colored lamp.
Have you ever felt like you could reach out and touch the clouds over the ocean on a sunny day? Bring the wonder of clouds in an endless sky into your space with the Spirale Frosted Fragrance Lamp.
The relief on the frosted lacquered glass body undulates like the rippling patterns of clouds drifting over the ocean. The fragrance included is Summer Night - an insecticide to repel bugs with the scent of Ocean Breeze.  A perfect way to enjoy the great outdoors.
Lie back on a sandy beach, breathe in the scent of roses on fresh, salty air, and watch the clouds drift by.
Wondering how to light a Lampe Berger?
It is so simple!
Fill the lamp with the accompanying Ocean Breeze home fragrance.
Light the burner.
Blow the flame out after a couple of minutes to clean the air and release French fragrance that captivates and allures.
The Lampe Berger has a unique and patented diffusion system that helps eradicate undesirable odors and bacteria while also diffusing your favorite fragrance. Purify your air the French way.
Fragrance Lamp sold in a gift pack with 5 accessories:
Wick-burner
Straight Silver diffuser cap
Stopper cap
Funnel
250 ml (8.5 oz) Ocean Breeze refill
Because you deserve the best, we strongly advise you to use your Lampe Berger only with Maison Berger Paris fragrances.
Dimensions (HxWxL)
12.5 x 8.2 x 8.2 cm (4.9 x 3.2 x 3.2 in)
Reference
314789
FRAGRANCE
Summer Night
The Summer Night home fragrance is a breath of marine air in an exotic sea spray. Its heart is a floral melody that interplays with marine notes, inviting you on an exhilarating seaside jaunt. Soft white musk and exotic wood aromas evoke far-off shores.
Head Notes
Rose, Blackcurrant, Marine Notes
Heart Notes
Rose, Jasmine, Lily of the Valley
Base Notes
White Musk, Amber, Exotic Wood