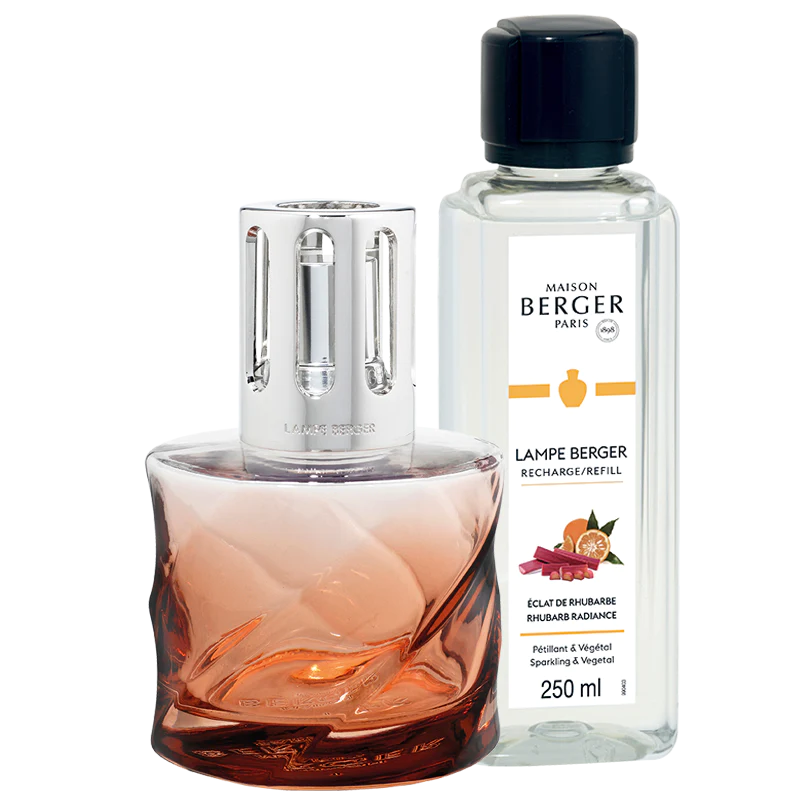 SPIRALE Coral Amber Lampe By Maison Berger #4780
Add a little twist of radiance to your space with warm color and fresh scent!.
A classic Lampe Berger—with a twist! The exuberant raised lines of the Spirale Coral Fragrance Lamp are fun and enticing.
Clear at the top, the gradient color of the translucent lacquered glass darkens to a warm shade of coral at the base. A curving relief twists around the classic rounded shape of the lamp's body, creating a sense of energy and movement.
The accompanying Rhubarb Radiance home fragrance is sparkling and vegetal. Green and fruity scents of rhubarb give way to a floral heart of jasmine before the composition closes on woody, resinous notes of cedarwood.
Bright color and a sparkling fragrance radiate energy and fun, making your space irresistible.
Wondering how to light a Lampe Berger?
It is so simple!
Fill the lamp with the accompanying Ocean Breeze home fragrance.
Light the burner.
Blow the flame out after a couple of minutes to clean the air and release French fragrance that captivates and allures.
The Lampe Berger has a unique and patented diffusion system that helps eradicate undesirable odors and bacteria while also diffusing your favorite fragrance. Purify your air the French way.
Fragrance Lamp sold in a gift pack with 5 accessories:
Wick-burner
Straight Silver diffuser cap
Stopper cap
Funnel
250 ml (8.5 oz) Ocean Breeze refill
Because you deserve the best, we strongly advise you to use your Lampe Berger only with Maison Berger Paris fragrances.
Dimensions (HxWxL)
12.5 x 8.2 x 8.2 cm (4.9 x 3.2 x 3.2 in)
Reference
314780
FRAGRANCE
Rhubarb Radiance
Fresh, fruity, and a little citrusy, this bold fragrance is juicy and sparkling. Opening on crisp, green, and fruity rhubarb enhanced by zesty notes of bitter orange and bergamot, the composition continues into a floral heart. Lily of the valley and rose meld with jasmine in a refined bouquet. Cedarwood and a veil of musk create a soft, velvety base.
TOP NOTES
Bitter Orange, Rhubarb, Bergamot
HEART NOTES
Lily of the Valley, Rose, Jasmine
BASE NOTES
Cedarwood, White Musk