PRISME Garnet Lampe Gift Set By Maison Berger - SALE
Maison Berger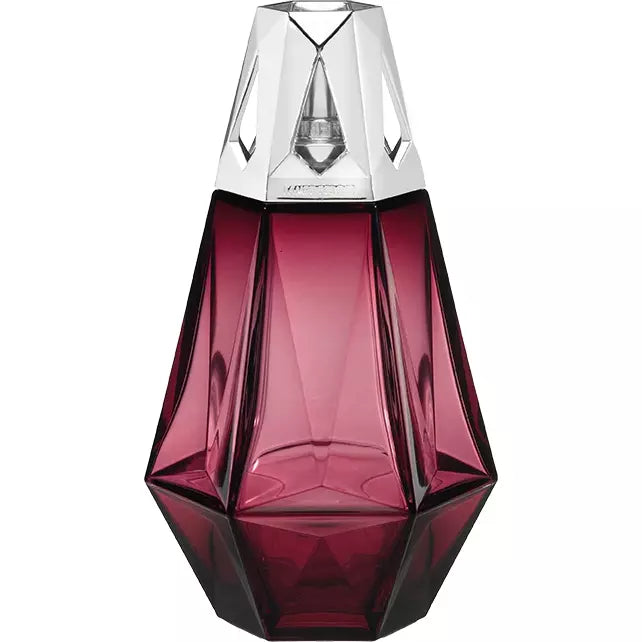 A sumptuous shape and color combine with an assertive woody fragrance in an ode to theatrical Baroque tradition.
A rich garnet hue pairs with a strong geometric shape to create an utterly entrancing object. Conceptualized by Armand Delsol, an award-winning designer, the Prisme Garnet lamp evokes the warmth and luxury of Baroque tradition. The deep gradient color showcases the facets of the translucent glass. Light reflects and refracts off the planes and edges of the prism-shaped glass body as the lines of the lamp extend into the gleaming geometric silver cap. The extravagant Wilderness home fragrance is fresh and woody with notes of lime, tomato leaves, and white birch. This refined union of bold fragrance and fine craftsmanship adds a luxurious accent to your space. Embrace your opulent side!
The Lampe Berger has a unique and patented diffusion system that helps eradicate undesirable odors and bacteria while also diffusing your favorite fragrance. Purify your air the French way.
Lamp sold in a gift set with accessories: wick-burner, Prisme silver diffuser cap, stopper, funnel + 250 ml Wilderness home fragrance.  
HOME FRAGRANCE IS DYE FREE
Because you deserve the best, we strongly advise you to use your Lampe Berger only with Maison Berger Paris fragrances.
FRAGRANCE
Wilderness
Adventure is calling! Opening on zesty notes of lime and grapefruit entwined with clean notes, the composition continues with a heart of fresh tomato leaves. The base is an earthy, woody, and leathery blend of patchouli, oakmoss, and white birch.
HEAD NOTES
Lime, Grapefruit, Clean Notes
HEART NOTES
Tomato Leaves

BASE NOTES
Earthy Patchouli, Oakmoss, White Birch
Dimensions (HxWxL)
17.2 x 10.3 x 8.6 cm (6.8 x 4.1 x 3.4 in)
Regulatory Information
Isopropanol. Highly flammable liquid and vapor. May cause serious eye irritation. May cause drowsiness or dizziness. Dangerous. Follow the instructions for use.