Peau de Soie (Floral) by Starck - Lampe Maison Berger Fragrance - 1 Litre
Maison Berger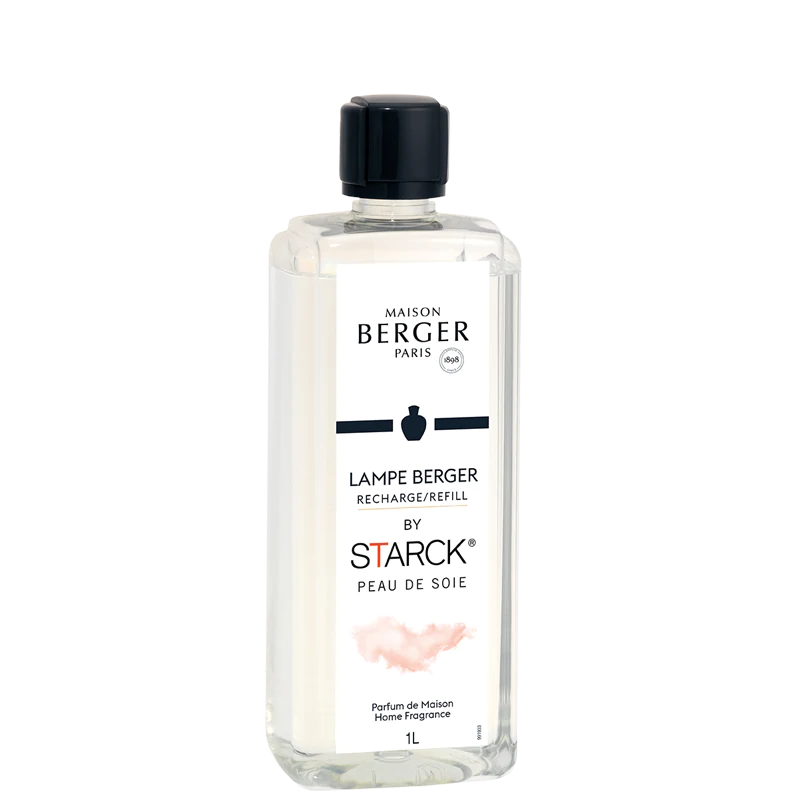 Peau de Soie (Floral) by Starck - Lampe Maison Berger Fragrance - 1 Litre.
Create an ambiance as soft as silk with a bright, floral fragrance.
A fragrance as soft and tender as a loving caress. From world-renowned French designer Philippe Starck, Peau de Soie is a body perfume that captures the scent of flowers on warm skin. Originally developed with famous perfumer Dominique Ropion, the iconic scent has now been faithfully adapted to a home fragrance by Maison Berger Paris. Bold and playful notes of cherry are enhanced by refined, sensual, and powdery violet and iris. A swell of delicacy slowly reveals itself as zesty bergamot paired with an aromatic sillage adds modernity. This freshness is balanced by a warm, virile base of musk and patchouli, accentuated by green chypre notes. As this fragrance lightly kisses the air, your space is filled with the warmth and gentleness of a loved one's touch.

Use with any Lampe Berger to purify and delicately perfume your home. The Lampe Berger has a unique and patented diffusion system that helps eradicate undesirable odors and bacteria while also diffusing your favorite fragrance. Purify your air the French way.
PERFUME WITHOUT DYE GUARANTEED
 Because you deserve the best, we strongly recommend that you use your Lampe Berger exclusively with Maison Berger Paris official perfumes.
FRAGRANCE
Peau de Soie by Starck
This bright, floral fragrance captures the feeling of silk caressing skin. The Peau de Soie (pronounced "poh de swah") home fragrance is a reinterpretation of the body perfume of the same name from famed French designer Philippe Starck. With a name that roughly translates to "silky skin," the fragrance opens on a blend of cherry, bergamot, and powdery violet, before continuing with iris, aromatic notes, and white musk in the heart. An earthy facet reveals itself in the base, where patchouli and green chypre notes entwine, enveloped in a veil of musk.
HEAD NOTES
Cherry, Bergamot, Violet

HEART NOTES
Iris, Aromatic Notes, White Musk

BASE NOTES
Musk, Patchouli, Chypre Notes
Regulatory Information
Isopropanol. Highly flammable liquid and vapor. May cause serious eye irritation. May cause drowsiness or dizziness. Dangerous. Follow the instructions for use.
Duration
40 hrs of diffusion - 160 hrs of fragrance