Peau d'Ailleurs (Fresh) by Starck - Lampe Maison Berger Fragrance - 500 Ml
Maison Berger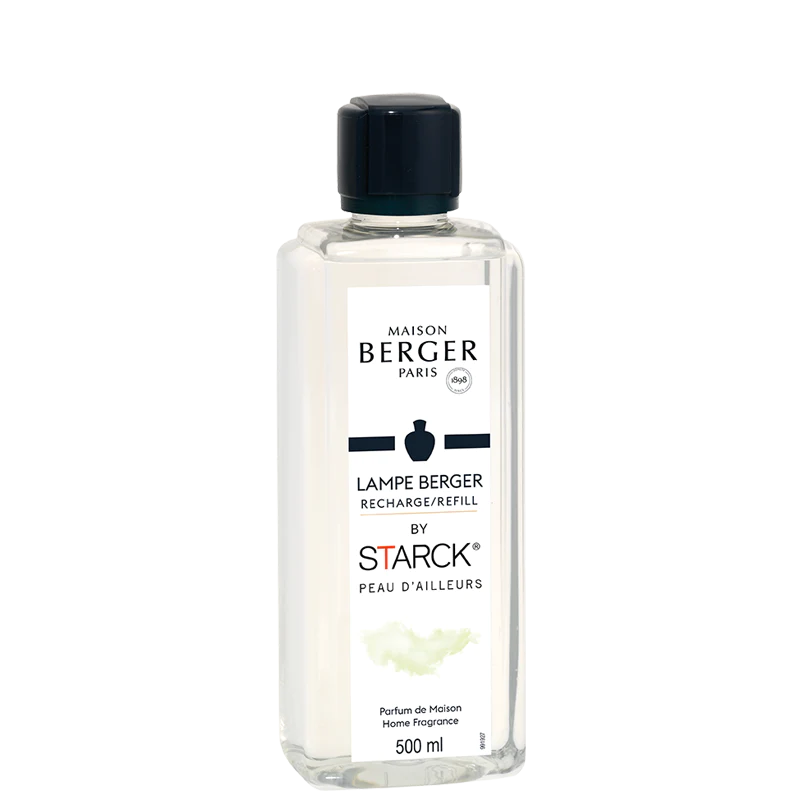 Peau d'Ailleurs (Fresh) by Starck - Lampe Maison Berger Fragrance - 500 Ml.
This earthy, green fragrance creates the impression of a place between light and shadow, intangible and undefinable.. 
Fresh and earthy, this enigmatic perfume for the home captures the green, springlike scent of raindrops saturating the earth. With the original Peau d'Ailleurs body perfume developed by accomplished perfumer Annick Menardo, acclaimed French designer Philippe Starck has evoked a place of possibility where earth meets air and water. Adapted to a home fragrance, the composition opens on mineral accords, their raw and intense naturality blending with vegetal green notes and violet leaf. Floral, almost powdery notes of rose and iris meld harmoniously in the heart. The woody power of patchouli and green vetiver are expressed in the base, supported by pronounced accords of leather and musk. This fresh and singular scent creates an atmosphere so verdant you can almost feel the mist beading on your skin.

Use with any Lampe Berger to purify and delicately perfume your home. The Lampe Berger has a unique and patented diffusion system that helps eradicate undesirable odors and bacteria while also diffusing your favorite fragrance. Purify your air the French way.
PERFUME WITHOUT DYE GUARANTEED
 Because you deserve the best, we strongly recommend that you use your Lampe Berger exclusively with Maison Berger Paris official perfumes.
FRAGRANCE
Peau d'Ailleurs by Starck
This green and earthy perfume for the home is transcendent! Renowned French designer Philippe Starck's body perfume Peau d'Ailleurs (pronounced "poh dai-YUR") has been adapted for the home by Maison Berger Paris. With a name that translates loosely to "skin from elsewhere," this fragrance opens on a fresh and powdery blend of green notes, mineral accords, and violet leaf. Iris and rose entwine in a floral dance in the heart before the composition closes on earthy patchouli, vegetal vetiver, leather, and musk.
HEAD NOTES
Green Notes, Mineral Accords, Violet Leaf
HEART NOTES
Iris, Rose
BASE NOTES
Patchouli, Vetiver, Leather, Musk
Regulatory Information
Isopropanol. Highly flammable liquid and vapor. May cause serious eye irritation. May cause drowsiness or dizziness. Dangerous. Follow the instructions for use.
Duration
20 hrs of diffusion - 80 hrs of fragrance