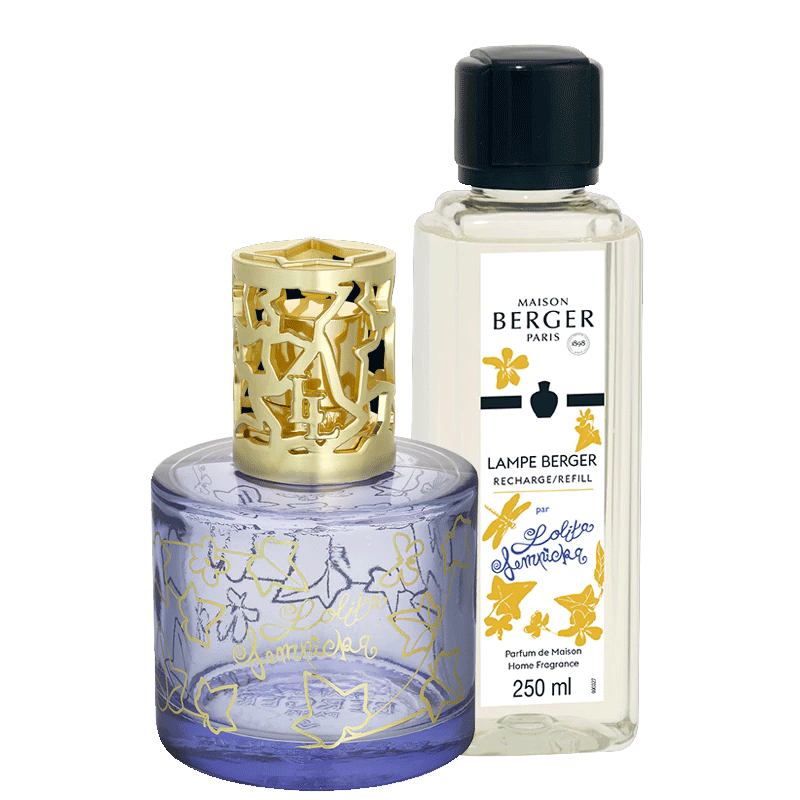 Fall under the spell of a lamp with a whimsical design and hypnotic fragrance.
A fairy tale captured in a lamp! The delicate golden lines adorning the Pure Lolita Lempicka Blue Lamp form a string of ivy leaves winding around the lamp. Offsetting this whimsical pattern, the rounded lamp body, in a soft shade of transparent blue glass, is modern and timeless. The ivy-leaf motif continues in the gorgeous openwork cap in a golden satin finish. Add a touch of fantasy and romance to your space. The Lolita Lempicka fragrance is an interpretation of the iconic French perfume of its namesake, imbuing your home with gourmand aromas of licorice flower and powdery violet blended with deliciously creamy facets. A dreamy design and irresistible aroma!
The Lampe Berger has a unique and patented diffusion system that helps eradicate undesirable odors and bacteria while also diffusing your favorite fragrance. Purify your air the French way.
Lamp sold in a gift set with accessories: wick-burner, Alpha gold diffuser cap, stopper, funnel + 250 ml Lolita Lempicka home fragrance. 
PERFUME WITHOUT DYE GUARANTEED
Because you deserve the best, we strongly recommend that you use your Lampe Berger exclusively with Maison Berger Paris official perfumes.
Why? Only the Maison Berger Paris catalysis process guarantees the quality and safety of use with Lampe Berger. The use of any other perfume than those offered by Maison Berger Paris would irreversibly damage your Lampe Berger.
Dimensions (HxWxL)
12 x 8.2 x 8.2 cm (4.7 x 3.2 x 3.2 in)
Regulatory Information
Isopropanol. Highly flammable liquid and vapor. May cause serious eye irritation. May cause drowsiness or dizziness. Dangerous. Follow the instructions for use.
Capacity
350 ml (11.8 oz)
FRAGRANCE
Lolita Lempicka
The Lolita Lempicka home fragrance opens on fresh notes of star anise and the bite of ivy leaves that give way to seductive licorice flower, elegant violet leaf, and delicate orris. The base of tonka bean, creamy wood, caramel and cistus labdanum close the composition on a gourmand, sensual base.
HEAD NOTES
Ivy Leaves, Star Anise, Licorice Flower
HEART NOTES
Violet Leaf, Cherry, Orris
BASE NOTES
Tonka Bean, Creamy Wood, Caramel, Cistus Labdanum