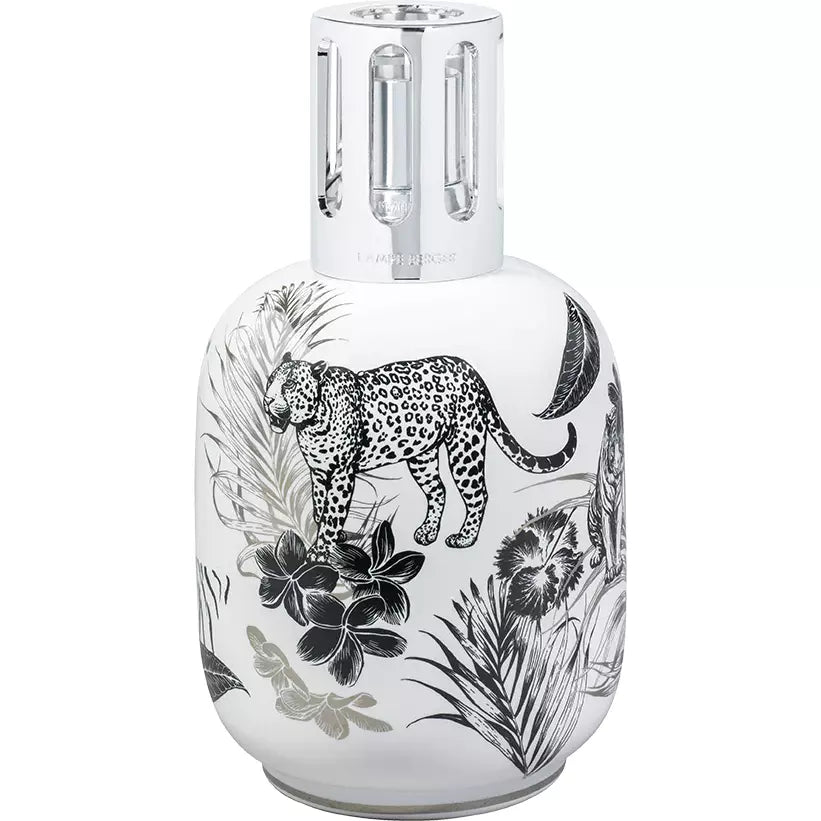 A bold white porcelain lamp depicts an exotic black and silver scene for an eye-catching accent.
Show off your wild side! The White Jungle catalytic lamp is crafted in porcelain, a material historically used in some of Maison Berger's iconic decorative objects. White Jungle, however, is a thoroughly modern take on the porcelain lamp. The stark white enamel is adorned with a black and silver pattern depicting a gorgeous, vivid scene of lush vegetation, tropical flowers, and exotic animals. The silvery shine of the cap brings out the silver embellishments on the lamp body for a striking effect. This showpiece is stunning, exquisitely crafted, and sure to become a collector's item. Add untamed jungle energy to your space with a gorgeous accent that promises adventures outside the ordinary.
The Lampe Berger has a unique and patented diffusion system that helps eradicate undesirable odors and bacteria while also diffusing your favorite fragrance. Purify your air the French way.
Lamp sold in a gift pack with accessories: wick-burner, straight black diffuser cap, stopper cap, and funnel.
Fragrance refills sold separately.
Because you deserve the best, we strongly advise you to use your Lampe Berger only with Maison Berger Paris fragrances.
Dimensions (HxWxL)
16.1 x 9.1 x 9.1 cm (6.3 x 3.6 x 3.6 in)
Color
White with black + silver jungle pattern