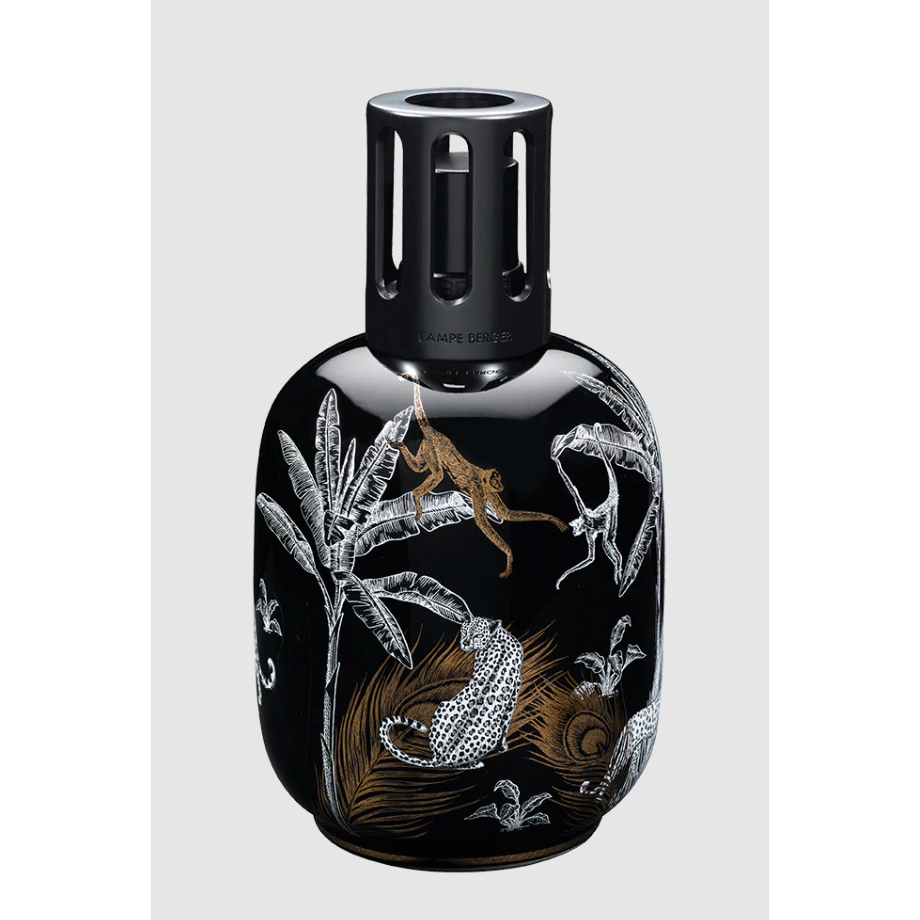 Turn up the heat with the lush jungle-inspired pattern on this unique porcelain lamp.
T
Surround yourself with untamed beauty and indulge your love for strong patterns with the bold Black Jungle Lamp! Crafted in porcelain, the lamp is exotic and refined, featuring a patterned black enamel coating and exquisite white and gold pattern. Peacock feathers and wild savannah cats are depicted in an intriguing scene. A satin black cap enhances the lamp with subtle shine and allows the two-toned pattern to take center stage. Crafted in fine materials and embellished with a gorgeous design, this lamp is an immediate collector's item. Its sultry effects will have you dreaming of distant adventures. Indulge your inner wild child!
The Lampe Berger has a unique and patented diffusion system that helps eradicate undesirable odors and bacteria while also diffusing your favorite fragrance. Purify your air the French way.
Lamp sold in a gift pack with accessories: wick-burner, straight black diffuser cap, stopper cap, and funnel.
Fragrance refills sold separately.
Because you deserve the best, we strongly advise you to use your Lampe Berger only with Maison Berger Paris fragrances.
Dimensions (HxWxL)
16.1 x 9.1 x 9.1 cm (6.3 x 3.6 x 3.6 in)
Color
Black with white + gold jungle pattern