HOLLY Triopack Trial Sizes (Amber, Leather, Tonka) - Lampe Maison Berger Fragrance -750Ml
Maison Berger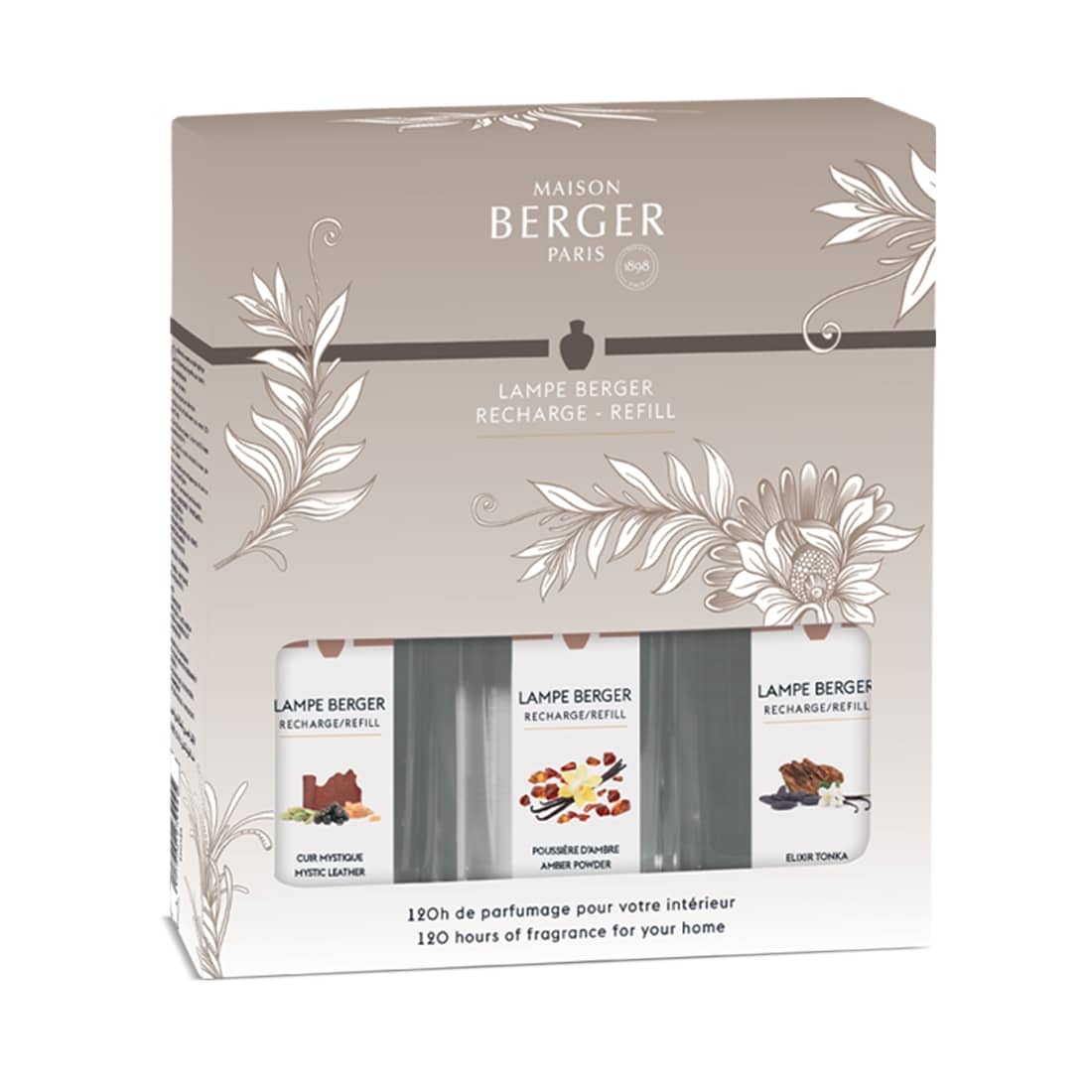 HOLLY Triopack Trial Sizes (Amber, Leather, Tonka) - Lampe Maison Berger Fragrance -750Ml
Love warm, sensual fragrance? Whether you're in the mood for sweet, spicy, or powdery fragrance, this trio of scents will have you looking for any excuse to stay home! The set includes:

Amber Powder - 250 ml (8.45 oz)
Mystic Leather - 250 ml (8.45 oz)
Tonka Elixir- 250 ml (8.45 oz)
T
The Holly Trio Pack comes with three 250 ml (8.5 oz) refills. Elegant 
Amber Powder
, our best-selling scent in France, adds 
je ne sais quoi
 to your space. Set the mood for a night on the town with sensual 
Mystic Leather
. 
Tonka Elixir
 channels the comforting atmosphere of your favorite coffee ship. 3 x 250 ml (8.5 oz)
This is a great way to try a variety of scents without getting "the big bottle" and see what fragrance you prefer!
 Because you deserve the best, we strongly recommend that you use your Lampe Berger exclusively with Maison Berger Paris official perfumes.
 Why? Only the Maison Berger Paris catalysis process guarantees the quality and safety of use with Lampe Berger. The use of any other perfume than those offered by Maison Berger Paris would irreversibly damage your Lampe Berger. 
Capacity: 3 x 250 ml (8.45 oz)
Reference No: 023995
Regulatory Information: Isopropanol. Highly flammable liquid and vapor. May cause serious eye irritation. May cause drowsiness or dizziness. Dangerous. Follow the instructions for use.
Made in France