Grapefruit Passion - Lampe Maison Berger Fragrance - 500Ml
Maison Berger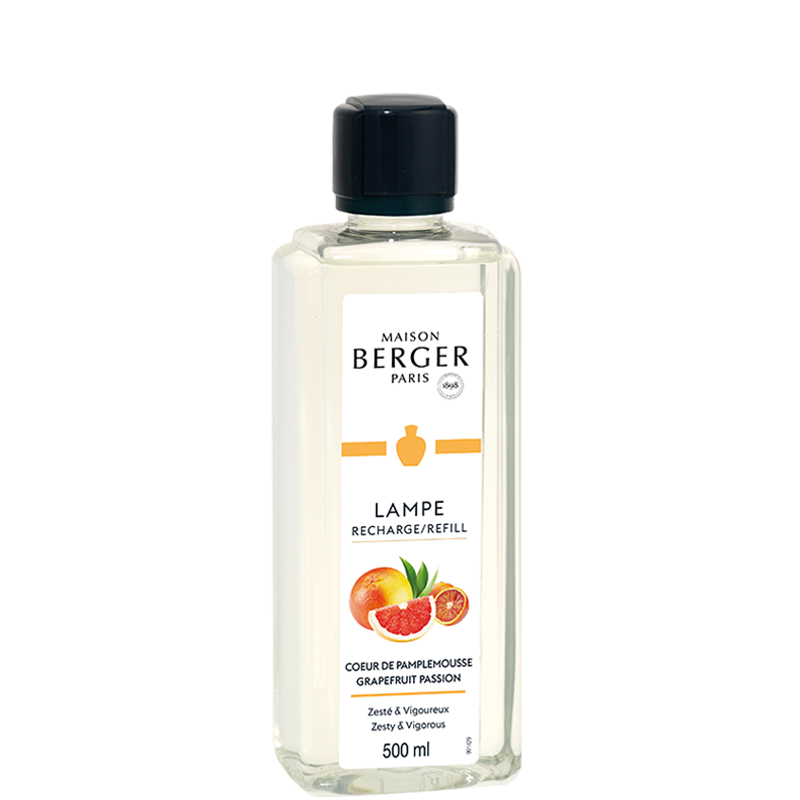 Grapefruit Passion 500 ml (16.9 oz.) Fragrance Lamp Oil - Lampe Berger by Maison Berger

Fill your home with the burst of joy that is Grapefruit Passion.

Invigorate your home, boost your mood, and increase your energy with a zesty burst of grapefruit. The Grapefruit Passion home fragrance is surprisingly vibrant, opening on bright orange peel and yuzu, enhanced with sparkling blackcurrant. Juicy grapefruit is the heart of this composition, which closes on freshly squeezed grapefruit juice enveloped in a veil of white musk. Create an energizing ambiance with the fresh scents of a citrus orchard that will imbue your home with a clean, lively aroma. This sparkling fragrance is a rush of intensity that will make you feel ready to take on anything.
Use with any Lampe Berger to purify and delicately perfume your home. The Lampe Berger has a unique and patented diffusion system that helps eradicate undesirable odors and bacteria while also diffusing your favorite fragrance. Purify your air the French way.
 Because you deserve the best, we strongly recommend that you use your Lampe Berger exclusively with Maison Berger Paris official fragrances.
Grapefruit Passion
The Grapefruit Passion home fragrance is surprisingly vibrant. This fragrance opens on the natural freshness of orange peel and zesty yuzu blended with sparkling blackcurrant. With a juicy citrus cocktail forming its heart, the composition closes on a veil of elegant white musk. Enliven your space with the fruity aromas of freshly squeezed grapefruit.
TOP NOTES
Blackcurrant, Yuzu, Orange
HEART NOTES
Pink Grapefruit
BASE NOTES
Grapefruit Juice, White Musk
Duration
20 hrs of diffusion - 80 hrs of fragrance