Frosted Christmas Lampe Gift Set AND Car Diffuser By Maison Berger-SALE
Maison Berger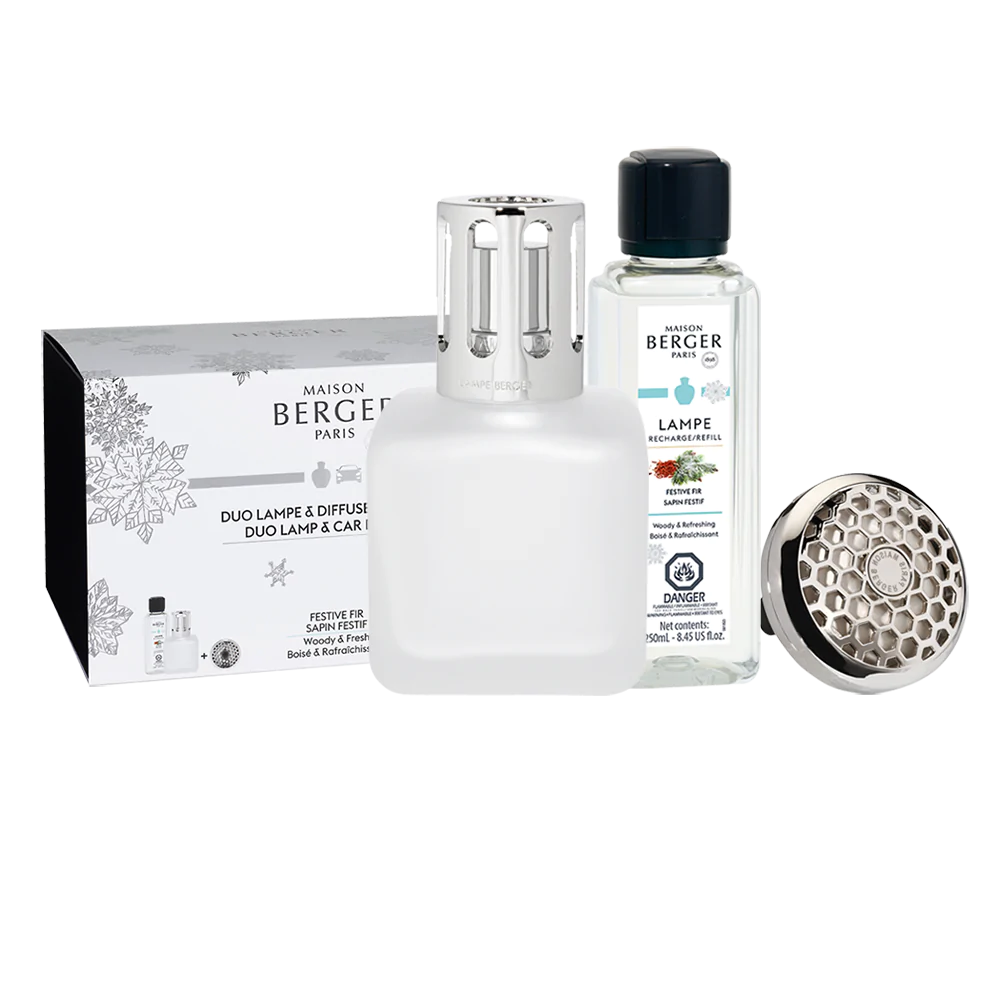 Immerse yourself in the aromas of a winter wonderland at home and on the road.
or those who can't get enough of the aromas of the season! Maison Berger Paris has created a special gift set that includes both a catalytic lamp and a car diffuser so you can spend your day surrounded by holiday aromas. The cube lamp is crafted in frosted white glass—the perfect accent for holiday décor. The car diffuser is a cool, shiny silver, adding a touch of elegance to your car interior. The accompanying Festive Fir home fragrance is refreshing and evocative, imbuing the air with the piney, woody aromas of an evergreen tree. Embrace the feeling of living in a winter wonderland! 
The Lampe Berger has a unique and patented diffusion system that helps eradicate undesirable odors and bacteria while also diffusing your favorite fragrance. Purify your air the French way.
Lamp sold in a gift set with accessories: wick-burner, straight silver diffuser cap, stopper, funnel + 250 ml Festive Fir home fragrance. Car diffuser pre-filled with a Festive Fir fragrance disk. 
 Because you deserve the best, we strongly advise you to use your Lampe Berger only with Maison Berger Paris fragrances.
RAGRANCE
Festive Fir
The Festive Fir home fragrance is joyous and refreshing. In the head, green, clean notes blend with pine needles in an ode to nature. Freshness takes over in the heart where pine entwines with eucalyptus and fir balm. Sandalwood and cedarwood bring the composition to a woody close.
TOP NOTES
Pine Needles, Green Notes, Clean Notes
HEART NOTES
Pine, Eucalyptus, Fir Balm
BASE NOTES
Cedarwood, Sandalwood
Regulatory Information
Isopropanol. Highly flammable liquid and vapour. Causes serious eye irritation. May cause drowsiness or dizziness.