Festive Fir and Home Sweet Home HOLIDAY Sampler 500Ml - SALE
Maison Berger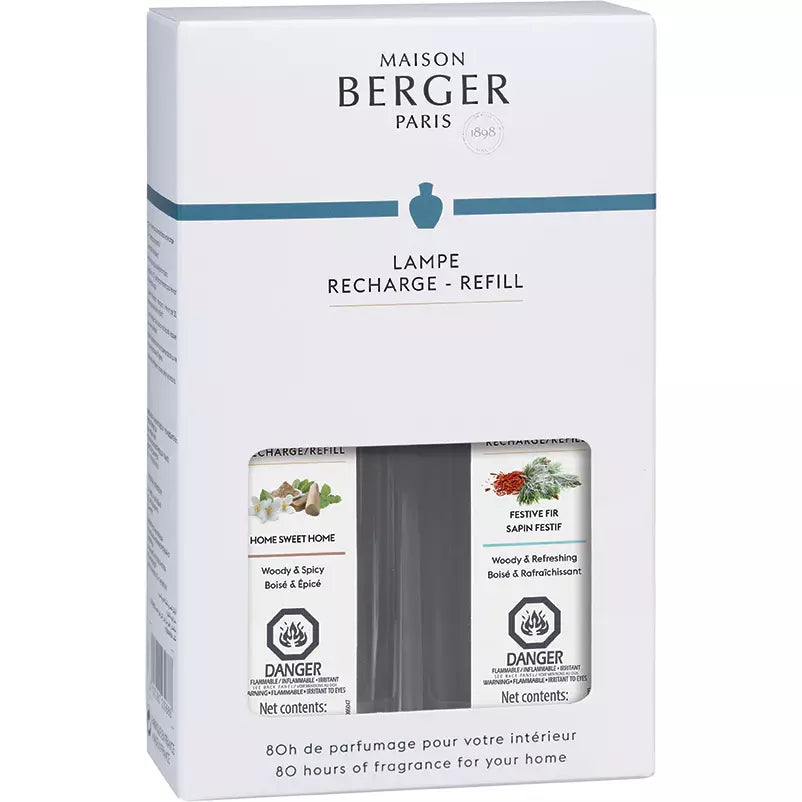 Enjoy two of our customer-favorite holiday fragrances—one cozy, one fresh. 
The Holiday Lamp Refill Duopack contains two fragrances. The Home Sweet Home fragrance creates the perfect cocooning haven to shelter from harsh weather. Opening on a vegetal facet with foliage and green and aquatic notes, the fragrance continues with a spicy, floral heart of cinnamon, peony, jasmine, and lily of the valley. Sweet, woody aromas play off each other in the base, in a dance between sandalwood, patchouli, amber, vanilla, and musk.
The Festive Fir home fragrance instantly evokes the invigoration of exploring an evergreen glade. Its pure, green, and piney head notes give way to a rush of freshness in the heart, where fir balm, pine, and eucalyptus entwine. The timeless woody aromas of sandalwood and cedarwood close the composition. Enjoy the odor-eliminating benefits of these fragrances as you get in the Holiday mood. 

Use with any Lampe Berger to purify and delicately perfume your home. The Lampe Berger has a unique and patented diffusion system that helps eradicate undesirable odors and bacteria while also diffusing your favorite fragrance. Purify your air the French way.

This set includes:
Home Sweet Home Lamp Fragrance Refill 250 ml (8.5 oz)
Festive Fir Lamp Fragrance Refill 250 ml (8.5 oz)
HOME FRAGRANCE IS DYE FREE
Because you deserve the best, we strongly advise you to use your Lampe Berger only with Maison Berger Paris fragrances.
Regulatory Information
Isopropanol. Highly flammable liquid and vapor. May cause serious eye irritation. May cause drowsiness or dizziness. Dangerous. Follow the instructions for use.