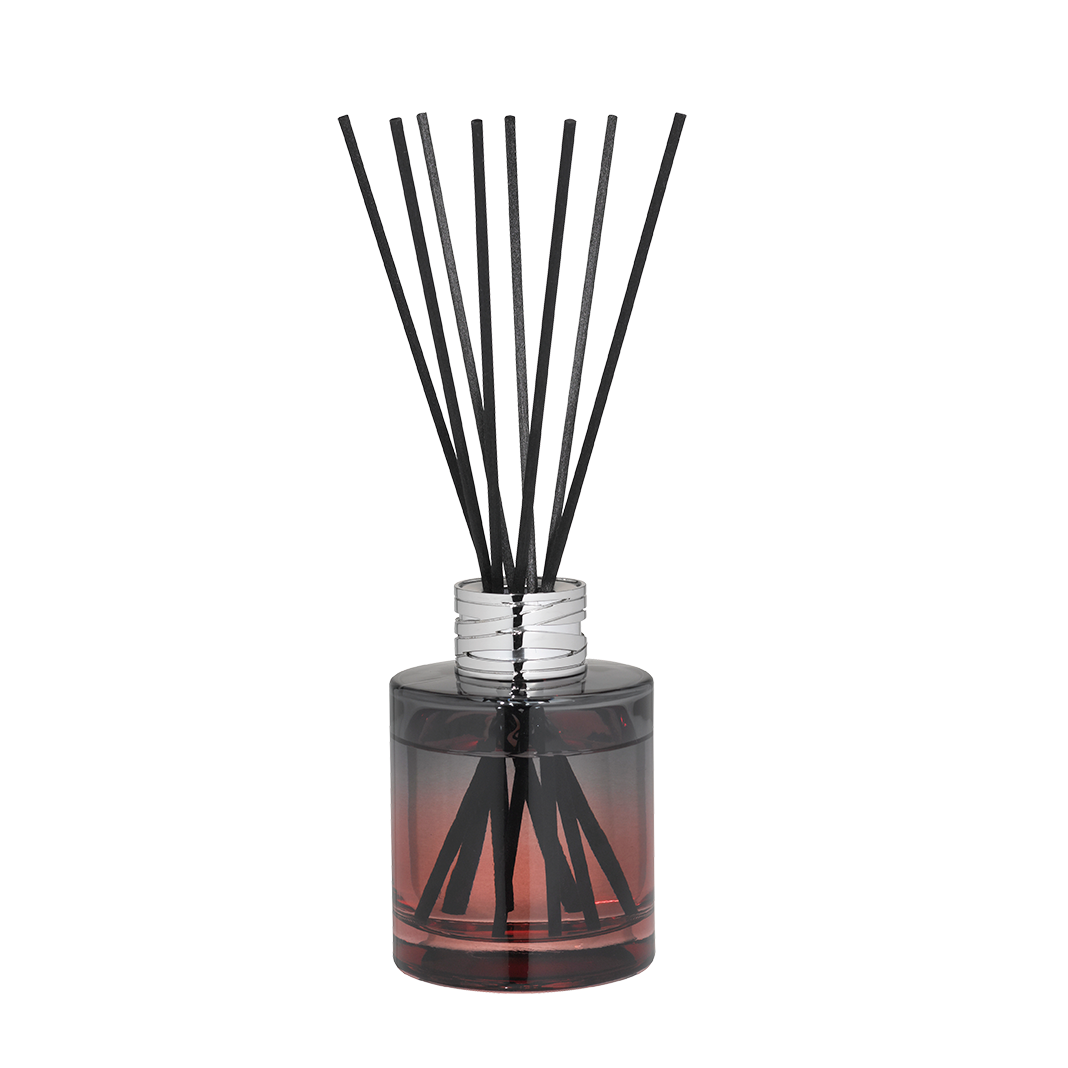 DARE Rouge-Grey Reed Diffuser by Parfum Berger - Cotton Caress Scent.
An unusual and complementary pairing of a bold reed diffuser and a soft aroma.
Bold design meets a soothing aroma. Like the Dare Collection's other pieces from designer Anthony Gambus, the Grey-Rouge Ombré Reed Diffuser is crafted in contrasting yet complementary colors. Black and rouge hues meld together in a harmonious and subtle gradient that showcases the diffuser's spheric shape. A shiny silver ring with an eye-catching twisting ribbon pattern sits atop the glass body. The pre-filled Cotton Caress fragrance imbues your home with a light, powdery aroma. Fresh notes whirl and entwine with orange blossom before landing gently on a bed of musk. Unexpected colors and a soft, powdery aroma unite to create a statement piece.
This reed diffuser is pre-filled with Vanilla Gourmet fragrance.
Can be refilled with any Maison Berger 200 ml (6.7 oz) reed diffuser refill.
Diffusion time: +/- 4 to 6 weeks.



Dimensions (HxWxL)
21.5 x 6.6 x 6.6 cm (8.5 x 2.6 x 2.6 in)
Regulatory Information
Isopropanol. Highly flammable liquid and vapor. May cause serious eye irritation. May cause drowsiness or dizziness. Dangerous. Follow the instructions for use.
FRAGRANCE
Cotton Caress
The soothing Cotton Caress home fragrance opens on alluring rose and fresh, clean notes before continuing with a powdery floral heart of orange blossom and powdered notes. The base is a soft veil, where musk and vanilla interplay, punctuated by cedarwood.
TOP NOTES
Rose, Fresh Notes, Aldehydes
HEART NOTES
Orange Blossom, Powdered Notes
BASE NOTES
Cedarwood, Musks, Vanilla