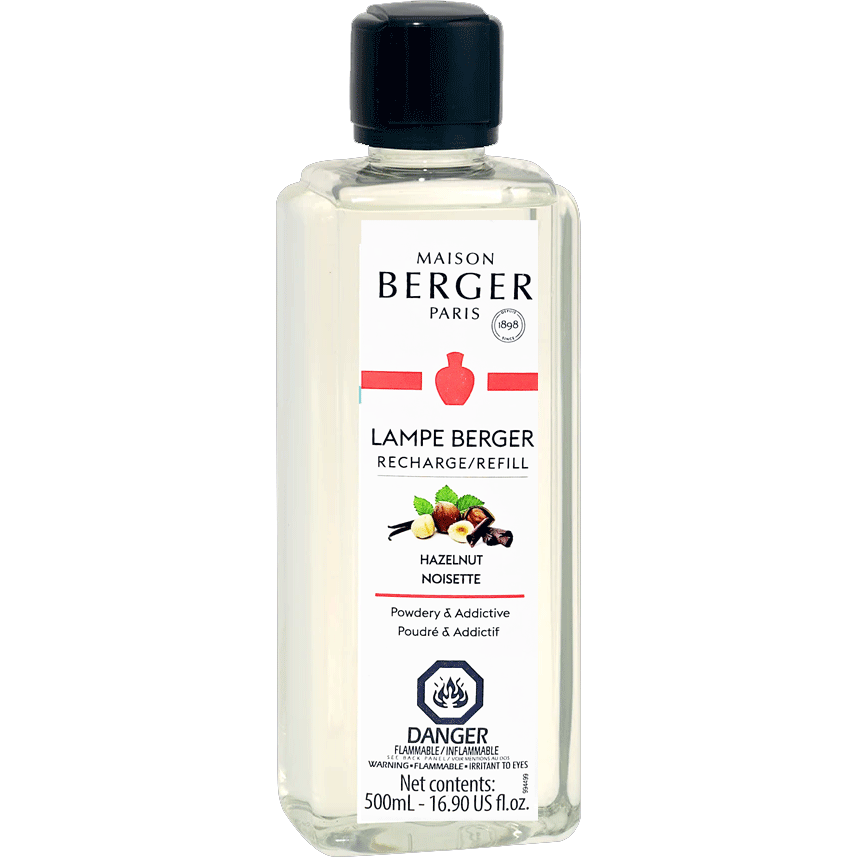 Hazelnut - Lampe Maison Berger Fragrance - 500Ml
Enjoy the nostalgic feeling of coming home to the delectable aroma of a chocolate dessert fresh out of the oven. In the new Hazelnut home fragrance developed exclusively for North America, Maison Berger has harnessed the feeling of gathering over treats that taste of rich, smooth chocolate and luscious hazelnut cream. The ingredients in this composition are straight out of a well-loved chocolate cake recipe passed down for generations! Opening on hazelnut and an assertive chocolate facet, the composition continues with a heart of hazelnut and sweet vanilla. Smooth vanilla in the base rounds out this nutty chocolatey treat. Imbue your home with the familiar, welcoming scent of fresh-baked goods and share this irresistible fragrance without moderation!

FRAGRANCE
Hazelnut
A true temple of harnessed appetites, the new Hazelnut home fragrance showcases every facet of this nut: grilled, powdery, roasted, lightly woody, and both sweet and gourmand. In the head, hazelnut and chocolate meld in a distinctive yet familiar pairing. The hazelnut story continues in the heart, sweetened by notes of vanilla. In the base, smooth vanilla rounds out the composition to create a tempting gourmand scent. This rich chocolatey hazelnut confection is an irresistible indulgence!
TOP NOTES
Hazelnut, Chocolate
HEART NOTES
Hazelnut, Vanilla
BASE NOTES
Vanilla
Use with any Lampe Berger to purify and delicately perfume your home. The Lampe Berger has a unique and patented diffusion system that helps eradicate undesirable odors and bacteria while also diffusing your favorite fragrance. Purify your air the French way.
 Because you deserve the best, we strongly recommend that you use your Lampe Berger exclusively with Maison Berger Paris official fragrances.
 Why? Only the use of Maison Berger Paris fragrances with the Maison Berger Paris catalytic process can guarantee quality and safe use of the Lampe Berger. Using fragrances other than those of Maison Berger can seriously damage your burner. 
Regulatory Information:
 Isopropanol. Highly flammable liquid and vapor. May cause serious eye irritation. May cause drowsiness or dizziness. Dangerous. Follow the instructions for use. 
Duration:
20 hrs of diffusion - 80 hrs of fragrance