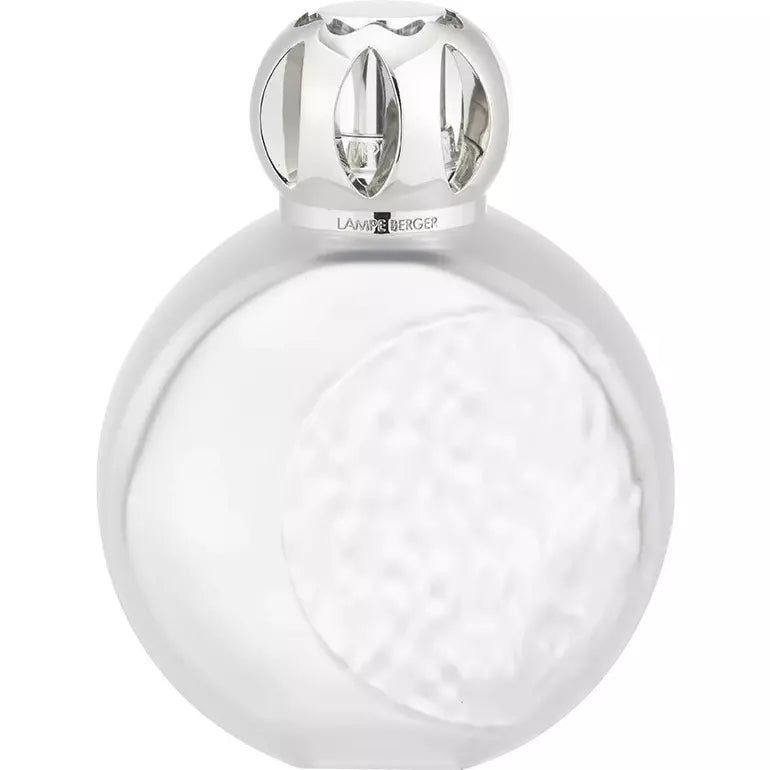 This lunar lamp and pure fragrance evoke the endless possibilities of the night sky.
The magic of moonlight captured in a lamp! In her design for the Astral Frosted Lamp, Rozenn Mainguené—who has designed for prestigious houses such as Armani, Dior, Carolina Herrera, Lancôme and Calvin Klein—transports us to the moon and explores all of its texture. The rounded lamp in the shape of a full moon draws you in with its play of textures, evoking both a smooth crescent moon and craters studding the lunar surface. A luminous polar hue accentuates every curve. The accompanying White Cashmere home fragrance is pure and soothing. Soft scents of Cashmeran wood blend with notes of orange blossom and accords of white musks for a delicate, powdery composition. Transcend the every day with a dreamy lamp the color of the moon in a vast sky.

The Lampe Berger has a unique and patented diffusion system that helps eradicate undesirable odors and bacteria while also diffusing your favorite fragrance. Purify your air the French way.
Lamp sold in a gift set with accessories: wick-burner, round silver diffuser cap, stopper, funnel + 250 ml White Cashmere home fragrance.  
HOME FRAGRANCE IS DYE FREE
Because you deserve the best, we strongly advise you to use your Lampe Berger only with Maison Berger Paris fragrances.
FRAGRANCE
White Cashmere
Create an ambiance as pure and infinite as the porous white-grey of the moon suspended in the stillness of space. This multifaceted composition is cozy and soothing, opening with soft woody notes, sprinkled with bergamot that sparkles like stardust, that evokes the peaceful slowness of the planets' orbits. The floral heart is sweet and subtle. Aquatic notes impart a light freshness to the composition while delicate, soothing white musks add a veil of elegance.
HEAD NOTES
Bergamot, Aquatic Notes, Cashmeran Wood
HEART NOTES
Jasmine, Orange Blossom, Ylang Ylang
BASE NOTES
Patchouli, Sandalwood, White Musks
Dimensions (HxWxL)
16 x 11.1 x 5.4 cm (6.7 x 4.4 x 2.1 in)
Regulatory Information
Isopropanol. Highly flammable liquid and vapor. May cause serious eye irritation. May cause drowsiness or dizziness. Dangerous. Follow the instructions for use.