Aroma Happy Aquatic Freshness - Lampe Gift Set by Maison Berger
Maison Berger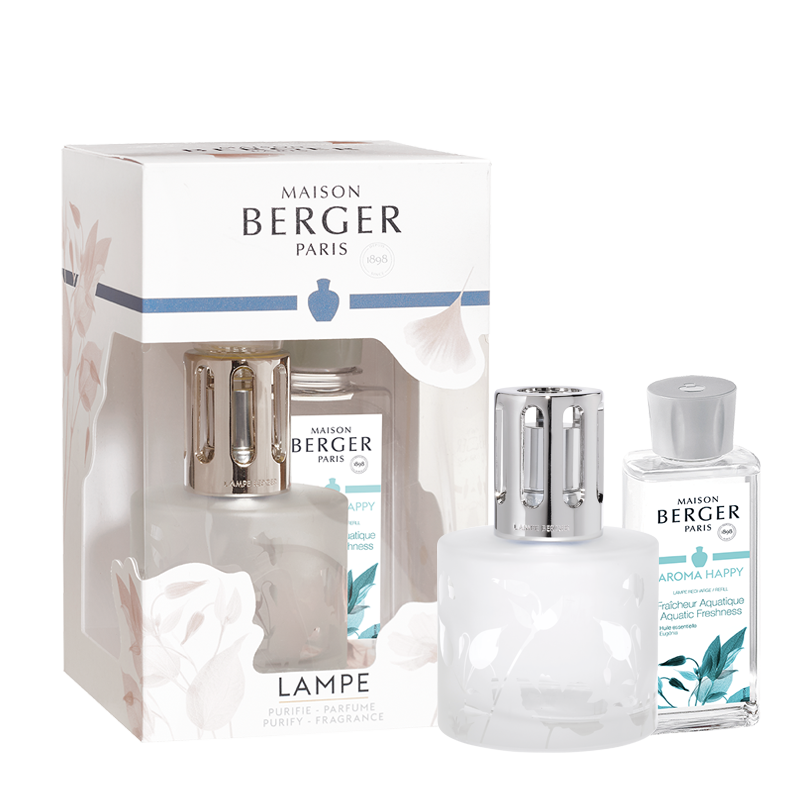 Aroma Happy Aquatic Freshness - Lampe Gift Set by Maison Berger.
Lampe includes everything you need to get started plus a 180Ml Trial container of the Happy Aquatic Freshness. 
It is one of life's little pleasures, a simple moment that makes you feel good. The Aroma collection and its olfactory compositions with essential oils open up an enchanted interlude for you.

Everything in this gift pack conveys the naturalness asserted by the Aroma collection. The Aroma Lampe Berger is an object of gentle simplicity: a rounded bottle in frosted white glass with a subtle, transparent floral decoration, and a discreetly elegant straight mounting to crown the whole. The Aroma Happy Aquatic Freshness Home Fragrance delightfully emphasizes the natural design of this Lampe Berger. It opens with radiant notes of crisp apple and refreshing melon; the heart is wonderfully floral and sunny; the base is ambered, musky and subtly fruity. This is a happy and joyful composition which comes to life with the action of essential oil of clove and its ultra-stimulating virtues!
Lamp sold in a gift pack with accessories: wick-burner, straight mounting, stopper and funnel + 180ml Aroma Happy Aquatic Freshness home fragrance. 

A fresh and aquatic fragrance for a joyful and lively atmosphere. The flight is crisp and refreshing with apple and melon, the heart is luminous with its sunny facet and the delicately amber-infused bottom completes the olfactory composition. Contains essential oil of eugenol to enhance the energizing effect, boost mental and physical well-being, release blocked energy and stimulate the intellectual faculties.

Head Notes: Melon, Green Apple
Heart Notes: Monoi, Lily of the Valley
Base Notes: Amber, Tuberose