Ambers Sun Lampe Fragrance by Maison Berger 1 Litre
Maison Berger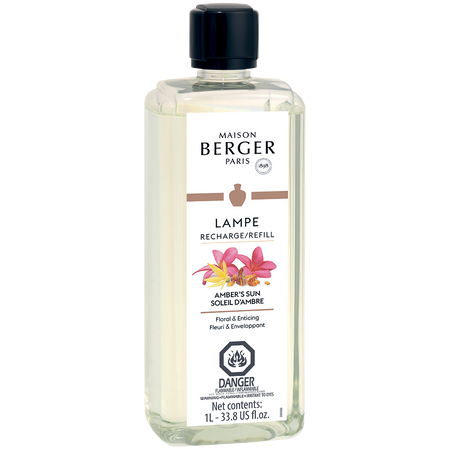 Ambers Sun Lampe Fragrance by Maison Berger 1 Litre.
LET THE SUNNY, FLORAL NOTES OF THIS FRAGRANCE TRANSPORT YOU TO A WARM, SANDY BEACH.
Book a one-way ticket to a sunny escape with the Amber's Sun home fragrance! Opening on a floral bouquet of voluptuous tuberose, airy freesia, and bright cyclamen, the composition continues its floral story in the heart, where heady jasmine, fresh rose, and sensual ylang ylang meld. A base of solar amber blends with woody, almost honeyed notes of blond cedarwood and the fruity Mediterranean notes of fig. Enjoy the feeling of summer relaxation any time. An aroma that captures the sensation of warm sand under your feet, waves lapping at your toes, the sun kissing your skin—who could resist?
Use with any Lampe Berger to purify and delicately perfume your home. The Lampe Berger has a unique and patented diffusion system that helps eradicate undesirable odors and bacteria while also diffusing your favorite fragrance. Purify your air the French way.
Because you deserve the best, we strongly recommend that you use your Lampe Berger exclusively with Maison Berger Paris official fragrances.
FRAGRANCE
AMBER'S SUN
Imbue your home with the floral aromas of summer. Opening on voluptuous tuberose, sweet freesia, and powdery cyclamen, the composition continues with heady jasmine, luscious ylang ylang, and fresh rose. In the base, solar amber and blond cedarwood add sunny, woody accords, enhanced by fruity fig. 
TOP NOTES
Tuberose, Freesia, Cyclamen
HEART NOTES
Jasmine, Ylang Ylang, Rose
BASE NOTES
Solar Amber, Blond Cedarwood, Fig
Regulatory Information
Isopropanol. Highly flammable liquid and vapor. May cause serious eye irritation. May cause drowsiness or dizziness. Dangerous. Follow the instructions for use.
Duration
40h of diffusion - 160h of fragrance