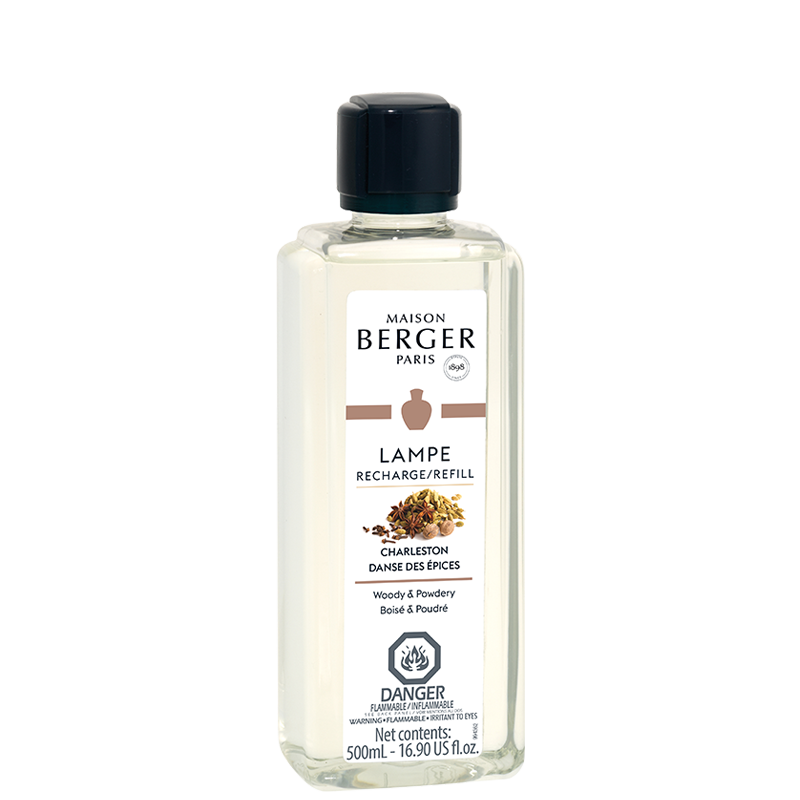 The Charleston home fragrance creates a warm, spice-infused ambiance.
Imbue your home with a sensual ambiance scented with warm spices and exotic wood. The Charleston home fragrance opens on a spice-infused waltz of cardamom, cinnamon, and nutmeg that creates a warm, magical atmosphere. Exotic ylang ylang forms the heart, enhanced by a base of woodsy teak, sensual amber, and elegant white musk. Make your home into a cozy, welcoming retreat. A postcard from faraway destinations, these delicious scents lead you on a fragrant frolic to distant, sun-warmed forests. Relax as the exotic aroma spins a soft cocoon of tranquility.

Use with any Lampe Berger to purify and delicately perfume your home. The Lampe Berger has a unique and patented diffusion system that helps eradicate undesirable odors and bacteria while also diffusing your favorite fragrance. Purify your air the French way.
Because you deserve the best, we strongly recommend that you use your Lampe Berger exclusively with Maison Berger Paris official fragrances.
Charleston
The Charleston home fragrance blends the warmth and magic of spices. Its heady scents open with the elegance of cardamom elevated by the sweet, spicy aroma of nutmeg. The heart showcases the soft sensuality of ylang ylang. The base is a veil of powdery amber that softly envelops woodsy teak.
TOP NOTES
Cardamom, Cinnamon, Nutmeg
HEART NOTES
Ylang Ylang
BASE NOTES
Teakwood, Amber, White Musk
Duration
20h of diffusion - 80h of fragrance